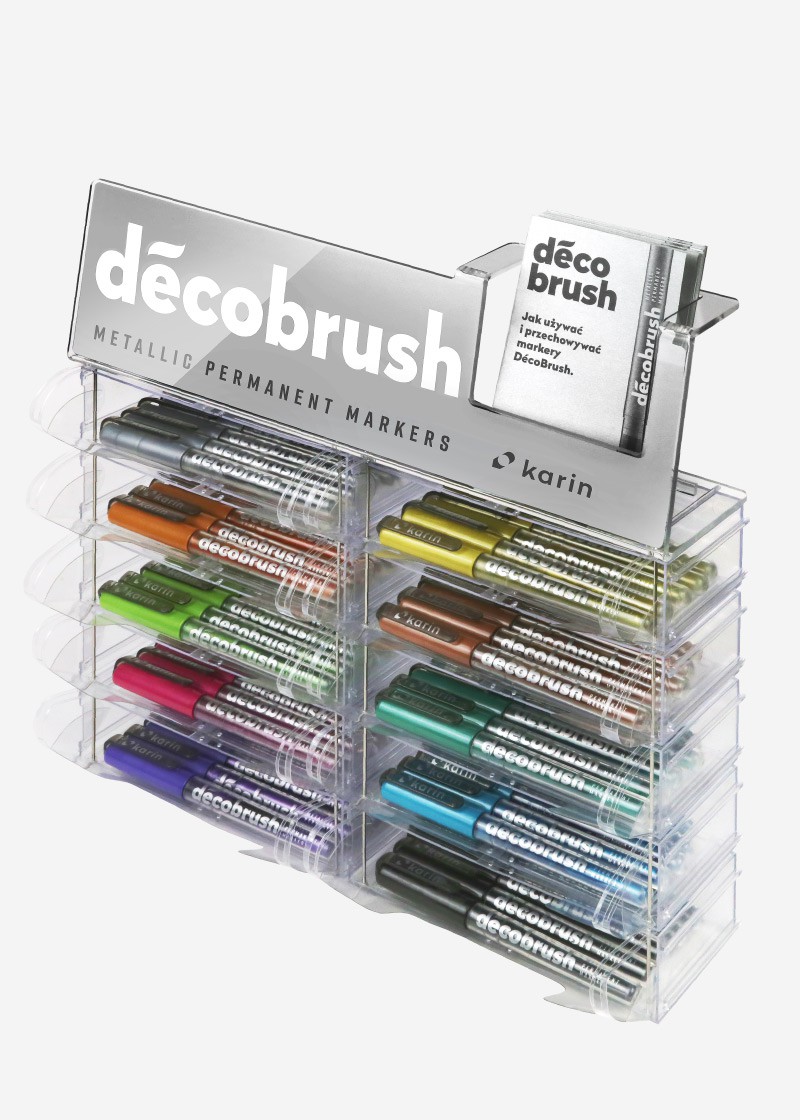  
DecoBrush Metallic Display (Include 120 Markers)
Display DecoBrush Metallic is a set of 120 markers containing 10 colors. Markers are arranged in horizontal pockets of 12 pieces in each. The display is made of the highest quality materials so it looks neat on any shop shelf or counter. The dimensions: 33.5 cm/13.4 inch (height), 32.5 cm/12.9 inch (width), 9 cm/3.6 inch (depth). The palette contains the following colors:
Estimated delivery time: 2-3 working days – EU countries | 2-8 days – non-EU countries

Free shipping over ( US & Canada excluded) : 100 EUR / 117 USD / 89 GBP / 117 CHF / 154 CAD / 158 AUD

Information for non-EU customers: the price includes customs clearance costs but does not include customs and local taxes (In some countries customs and local taxes is free of charge – e.g. in USA up to 800 USD)
DécoBrush markers contain 2.4 ml of non-toxic paint based on metallic pigments. They are perfectly capable of covering both black and white surfaces. They were produced in "liquid ink" technology and thus, as opposed to traditional technology, they enable using all the contents. Metallic paint, after drying out, is permanent, light-resistant and waterproof on surfaces such as: paper, wood, ceramics, glass, metal, plastics. For further details, please go to the Attachments tab.