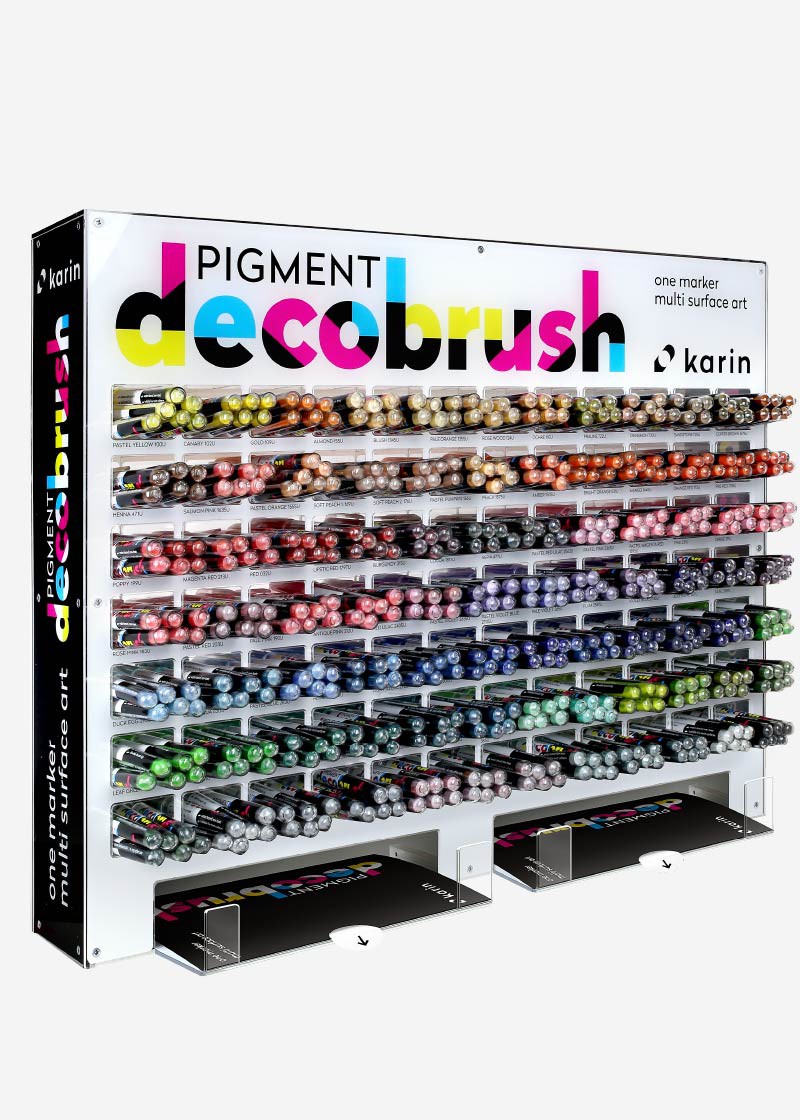  
Pigment Decobrush | DISPLAY for stores (504 markers)
PIGMENT decobrush DISPLAY for stores is a set of 504 markers containing 84 colors. Markers are arranged in pockets of 6 pieces in each. The display is made of the highest quality materials so that it looks neat on any shop shelf or counter. The dimensions: 59,6 x 47 x 19,5 cm (23,44 x 18,50 x 7,68 Inch). The palette contains the following colors:
Estimated delivery time: 2-3 working days – EU countries | 2-8 days – non-EU countries

Free shipping over ( US & Canada excluded) : 100 EUR / 117 USD / 89 GBP / 117 CHF / 154 CAD / 158 AUD

Information for non-EU customers: the price includes customs clearance costs but does not include customs and local taxes (In some countries customs and local taxes is free of charge – e.g. in USA up to 800 USD)
The method of using PIGMENT decobrush markers is similar to acrylic paints, but trapped in an easy to use marker with a flexible, brush-shaped nylon tip. Their opaque paint can be used on paper, metal, glass, plastic, wood, textile and a lot of other materials. The opaque, matte paint allows its application also on dark surfaces with techniques still unavailable to other markers. PIGMENT decobrush markers contain 2.4 ml of acrylic, opaque and non-toxic organic pigment based paints. They have been produced in the technology of "liquid ink" just like our other markers and thanks to that, unlike traditional technologies, they allow paint consumption in 100%.